Wießner Fritz
(
Bearbeiten
)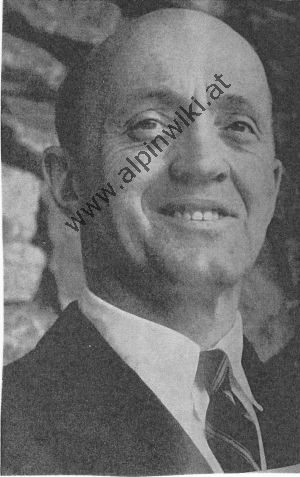 Biografie:
Wießner Fritz, * Dresden, ab 1929 Stowe (USA), + Stone,Vermont (USA)
Fritz Wießner war eine Kletterlegende und gehörte in den zwanziger Jahren zu den besten Bergsteigern. Er wurde am 26.Februar 1900 in Dresden geboren. 1929 wanderte er nach Stowe in die USA aus.
Vor allem in der Sächsichen Schweiz,im Wilden Kaiser und in den Dolomiten war er sehr erfolgreich und war einer der bedeutensten bergsportlichen und leistungsfähigsten Elbsandsteinpioniere in Sachsen. Dort gelangen ihm etliche Erstbegehungen. Auch in den Alpen konnte er mehrere Erstbegehungen durchführen. Seine freiwillige Selbstbeschränkung im Hilfsmittelgebrauch hat auch seine großen Kletterfahrten in den Alpen geprägt. Er kannte das Hochgebirge genau so gut wie die Sportklettergebiete. Ihm gelangen die Besteigungen aller Viertausender der Alpen.
In der 450 Meter hohen Fleischbank-Südwestwand gelang dem Sachsen Fritz Wießner aus Dresden und dem Innsbrucker Roland Rossi eine sensationelle Route. Drei Tage lang kletterten sie in der Wand und setzen an einigen Stellen eine beträchtliche Anzahl von Haken ein. Diese Tour galt als die damals schwierigste Route im Wilden Kaiser. Ein Jahr nach der Fleischbank-Südostwand waren Wießner und Solleder in die Dolomiten gefahren. Ihr Ziel war die Furchetta-Nordwand in der Geisler-Gruppe. Im zweiten Anlauf durchkletterten sie diese schwere, 800 Meter hohe Wand.
Nach seiner Auswanderung in die USA war er auch dort ein erfolgreicher Bergsteiger. Bei der "Deutsch-Amerikanischen Nanga Parbat-Expedition" erreichte er zusammen mit Willy Merkl und Fritz Bechtold den Rakhiotgrat in ca.7000m.
Die strengen Regeln der sächsichen Bergsteiger fanden auch über ihn Eingang in die amerikanische Kletterscene. Er galt als Mitbegründer des amerikanischen "Free Climbing". Mehrere Erstbegehungen in verschiedenen Gebirgsgruppen (Shawangunks im Staat New York) machten in bald unter Alpinisten in der USA berühmt. Er war Entdecker des heute sehr populären Klettergebiets der Shawangunks im Staate New York. Ab 1935 begann Wießner mit dem Österreicher Dr. Hans Kraus des rund 10 km langen und durchschnittlich 60m hohen Felsriegel systematisch zu erschließen. 1938 gelang ihm die Erstbesteigung des damals als sehr schwierig eingestuften Viertausender Mount Waddington. Mit 4042m ist er der höchste Gipfel an der Coast Range von British Columbia. Aus seinen vielen schwierigen Touren in den USA hob Wießner die Besteigung des Devil's Tower hervor.
10 Jahre lang war er der amerikanische Vertreter bei der UIAA.
Fritz Wießner war bis zuletzt in den Bergen der Welt unterwegs,als Bergsteiger,Skifahrer und Kletterer. Alljährlich kehrte er zu den Felsen seiner Jugend ins Elbsandsteingebirge zurück.
Am 4.Juli 1988 ist Fritz Wießner in Stowe/Vermont (USA) gestorben. Er ist zur alpinen Geschichte geworden.
1915 Erste Begehungen im Elbsandsteingebirge
1919 1.Beg.Großer Prebischkogel-Südwand "Südweg", (Elbsandsteingebirge)
1920 Alleinbeg.Totenkirchl-Westwand "Piaz",V/A0,2193m, (Wilder Kaiser)
1920 2.Beg.Totenkirchl-Direkte Westwand "Dülfer",V+/A0,750 KM,2193m, (Wilder Kaiser)
1921 1.Beg.Großes Spitzen Horn-Nordriss,7c,VI+, (Sächsische Schweiz)
1923 2.Alleinbeg.Watzmann-Ostwand,2712m, (Berchtesgadener Alpen)
1924 1.Beg.Frienstein "Wießnerriss",7c,VI+, (Sächsische Schweiz)
1924 2.(freie) Beg.Predigtstuhl-Nordgipfel-Westwand "Fiechtl-Weinberger-Weg",V+/A1,200 HM, 2116m, (Wilder Kaiser)
1924 3.Beg.Predigtstuhl-Nordgipfel-Westwand "Schüle-Diem-Verschneidung",VI-/A1,2116m, (Wilder Kaiser)
1924 3.Beg.Fleischbank-Ostwand "Dülferriß",V,2187m, (Wilder Kaiser)
1924 Beg.Schüsselkarspitze-Südwand "Fiechtl-Herzog",V+,2538m, (Wettersteingebirge)
1924 Beg.Lalidererwand-Nordwand "Dibona-Mayer",V-/A0,2615m, (Karwendel)
1925 1.Beg.Fleischbank-Südostwand "Wießner-Rossi",V+/A1,270 HM,2187m, (Wilder Kaiser)
1925 1.Beg.Furchetta-Nordwand,VI-,800 HM,3025m, (Geisler-Gruppe,Dolomiten)
1926 1.Beg.Pala di San Martino-Direkte Ostwand "Simon-Wießner",V,2987m, (Pala)
1927 1.Beg.Cima Canali Direkte Westwand "Simon-Wießner",VI-,500 HM,2897m, (Pala,Dolomiten)
1927 1.Beg.Cima del Coro-Südwestwand "Simon,Wießner,Kees",V+,2706m, (Pala,Dolomiten)
1927 1.Beg.Cima dei Lastei-Südwand "Südwandweg,Simon-Wießner-Kees",V,1100 HM,2844m, (Val Canali,Pala,Dolomiten)
1927 1.Beg.Sasso d'Ortiga-Westkante "Ortigakante,Wießner-Kees",IV+,400 HM,2634m, (Pala,Dolomiten)
1928 1.Beg.Civetta-Ostwand "Wießner-Kees",3320m, (Civetta,Dolomiten)
1928 12.Beg.Peutereygrat über Aguille Blanche,4112m, bis Col de Peuterey, (Montblancgebiet)
1932 Best.Nanga Parbat bis 6950m,8125m, (Karakorum,Pakistan)
1936 1.Best.Mount Waddington-Südwand,4019m oder 4042m,V+, (Rocky Mountains,Coast Range,British Columbia,Kanada)
1936 1.Beg.Cannon Cliff "Wießner-Pfeiler", (White Mountains,New Hampshire)
1936 2.Beg.u.1.Freie Beg.Grand Teton-Nordkante,4196m, (Wyoming,USA)
1936 1.Best.Mount Mystery,4042m, (USA)
1937 1.Freie Beg.Devil's Tower "by fair means",386 HM,1559m, (Crook County, Wyoming,USA)
1938 Best.Mount Athabasca,3490m, (Rocky Mountains,Kanada)
1938 Best.Mount Robson,3954m, (Rocky Mountains,Kanada)
1939 Leiter der amerikanischen Karakorumexpedition zum K2,bis 8388m,8611m, (Karakorum,Pakistan/China)
1946 1.Beg. "Minni Belle",VI,5.8, (Shawangunks,Staat New York,USA)
1953 Teilnehmer Amerikanische Gasherbrum I Expedition,8068m, (Karakorum,Kaschmir)
1968 Beg.Roßkuppenkante "Hainriß",2157m, (Ennestaler Alpen)
1.Freie Beg.Grand Teton-Nordkante,4199m, (Wyoming,USA)
1.Beg. "High Exposure",V, (Shawangunks,Staat New York,USA)
Best.Mount Shasta,4322m, (Kaskadenkette,Rocky Mountains,USA)
Best.Popocatepetl,5462m, (Hochland,Mexiko)
Best.Citlaltépetl (Pico de Orizaba),5636 m, (Mexiko)
Gerd Schauer, Isny im Allgäu
Fritz Wiessner,
Deutsch-Amerikaner, der das freie Klettern vom Elbsandstein in die USA exportiert hatte (von wo es seit einigen Jahren wieder als »Botschaft von drüben« zu uns herüberkommt), ist mit seinen inzwischen 78 Jahren Ende September mit Pit Schubert den Südgrat am Dohlenfelsen (Klettergebiet Konstein im Jura) im Schwierigkeitsgrad V gegangen. Wiessner äußerte sich voller Hochachtung über das Training, das US-Spitzenbergsteiger drüben
absolvieren: »Regelrechtes Ballett, Seiltanz und natürlich Krafttraining für fast alle Muskeln, und das täglich viele Stunden lang!«
Quelle: Der Bergsteiger 1978, Heft 11, Seite 661
Fritz Wiessner, Stowe (Vermont/USA), unermüdlicher Seniorenkletterer (*26.2.1900 Dresden), ist wieder einmal auf Kletterweltreise: Gegen Ende April lief er sich mit dem Südtiroler Hansjörg Hager am rassigen Albano-Klettersteig (Gardaseegebiet) ein. Dann kletterte er am beliebten Baou bei Nizza, um anschließend die Felsenwelt seines heimatlichen Elbsandsteingebirges zu besuchen; im letzten Herbst schaffte er dort noch, zusammen mit Bernd Arnold, eine VIlla-Route.
Quelle: Der Bergsteiger 1982, Heft 8, Seite 66
Fritz Hermann Ernst Wiessner 1900-1988
The climbing career of the German-American mountaineer Fritz Wiessner was one of the most pivotal of any 20th-century mountaineer. His new routes and mountain conquests are the stuff of climbing lore, but his boldness was not without cost. History remembers not only Fritz Wiessner's stunning successes, his first ascents of Mount Waddington and Devil's Tower, but one very notable controversy - the 1939 K2 tragedy. Other facets of Fritz's long life included a contented family and business life, but perhaps most visible to other climbers was his insatiable appetite for rock climbing which kept him following 5.6 (VS) until the age of 86. Fritz Wiessner was 'The Durable Champion'. He died at home in Stowe, Vermont on 3 July 1988.
What made Fritz Wiessner an important figure was his influence upon the evolution of climbing and mountaineering thought - in both Europe and America. After advancing rock-climbing standards on his hometown crags near Dresden and in the Dolomites in the I 920S, Fritz carried his strict free-climbing codes to America, emigrating in 1929 to New York City. In 1932 he participated in the German-American Nanga Parbat Expedition with, amongst others, Willy Merkl, Peter Aschenbrenner, Rand Herron and Elizabeth Knowlton. It was the second attempt ever made on this Karakoram giant. Ascending the Rakhiot Face, Fritz reached 7000m and Camp VII on the mountain's E ridge, but attempts on the summit were thwarted by deep snow and continuous storm.
In the mid-1930S, with another leading figure, Robert Underhill, Fritz brought American rock climbing out of its infancy, initially in New Hampshire's White Mountains. Then came a landmark event in American climbing: Fritz's discovery in 1935 of the immense potential of the Shawangunk cliffs in New York state. With his friend and partner Hans Kraus, he climbed the
renowned High Exposure, a locally famous climb on the Trapps, in 1944. Fritz continued to climb regularly at the 'Gunks' until 1986.
Wiessner applied his mountaineering experience to North American peaks, beginning with the first ascent of Mount Waddington (404om) in Canada's British Columbia Coast Range in 1936. The ascent of the 'unclimbable Mount Mystery' with Bill House was heralded as the hardest
climb in North America. A year later Wiessner and House made the first technical ascent of Devil's Tower in Wyoming with Lawrence Coveney. Though thoroughly different in character, these two significant ascents signalled Fritz Wiessner's full maturation as a mountaineer.
Remembering Vittorio Sella's unsurpassed K2 photographs, Fritz's eyes returned to the lofty, snowy horizons of the Karakoram. His expedition proposal led to the first American attempt on the mountain. Sadly, when permission was finally granted, Fritz could not go. The eventual 1938 expedition, led by Charles Houston, determined that the Abruzzi Ridge was the most feasible route to the summit. That year a high point of 7925m was reached.
Fritz led the second American expedition to K2 in 1939. Above Camp IX, on the first summit attempt, climbing without oxygen and at a height of 8390m, Fritz urged an all-night climb to the summit, only 220m higher. Afraid of the mountain's spirits and not realizing the top was so close, Pasang Lama held the belay rope firmly and suggested they descend. Reluctantly Fritz gave in. During the descent their crampons, becoming tangled in the abseil ropes, were fatedly dropped. Without them the second summit bid also failed. Theirs was a brilliant effort nonetheless, accomplished with virtually no back-up, without radios or bottled oxygen. Had they succeeded, their first ascent of K2 would have radically changed the course and history of Himalayan mountaineering.
Only Dudley Wolfe, alone at Camp 13, was in support. During the trio's descent, they discovered the lower camps had been mysteriously destroyed, tents cut open and food scattered in the snow. More importantly, the extra sleeping-bags and mattresses had also vanished. The exact events remain baffling today. After Jack Durrance had ordered the evacuation of the lower camps (in the surmised belief that the mountain had been climbed), unsupervised Sherpas stripped two higher camps after witnessing a supposedly 'fatal' avalanche near the summit. When all the sleeping-bags were returned to Base Camp - with no corroborative evidence of the summit team's death besides the avalanche story - the gear was not immediately returned to the mountain. Instead, after two open bivouacs, Wiessner and Lama dragged themselves into Base.
Wolfe, who had volunteered to stay behind at Camp 7 for a third summit effort, was now stranded. Several rescue attempts were mounted; finally Pasang Kikuli, Pasang Kitar and Pintso disappeared without a trace in a gallant last ditch effort. A ferocious storm broke, and none of the four men was ever seen again.
Upon returning home, Fritz as expedition leader was blamed for the tragedy. After an American Alpine Club inquiry 'whitewashed' the whole affair (to use Fritz's expression), he resigned from the AAC in 1940. In an effort to make amends, he was unanimously voted an Honorary Member of the Club in 1966. However, the K2 tragedy continued to haunt him, a troubled undercurrent to a contented old age. 'The mountains have given me my greatest joys and most profound sorrows,' Fritz once observed, 'but always it was men who failed me.'
Fritz married Muriel Schoonmaker on 10 January 1945. They had two children, Andrew and Polly, and there are now four Wiessner grandchildren: Mia, Angus, Silas, and Nicholas. A manufacturer of ski waxes and waterproof coatings, Fritz moved his chemical company to Burlington, Vermont in 1946. The Wiessners moved permanently to nearby Stowe in 1952.
While' Fritz never returned to the high mountains, he travelled and climbed extensively. In 196o he completed all the 4000m peaks in the Alps. His final snow climbs were Popocatepetl and Orizaba in 1968. He also continued to rock-climb at a phenomenally high level, in America, Mexico, England, France, Italy, and of course Saxon Switzerland near Dresden. As a roving ambassador for the American and Canadian Alpineclubs, Fritz helped with UIAA relations.
Historically, Fritz Wiessner was one of the first climbers to fulfil the mountaineer's boldest dream: to progress from a rock-climbing background to the accomplished stature of a seasoned Himalayan mountaineer, climbing above 8000m alpine-style, on a new route and without oxygen. It is a path few men have followed in the intervening 50 years. For generations to come, Fritz Wiessner's exemplary life will be an inspiring example.
Ed Webster
Quelle: Alpine Journal Volume 94, 1989-90, Seite 314-316
Geboren am:
26.02.1900
Gestorben am:
03.07.1988
WIKIWiessner Fritz - BK 1960-14-Apr.pdf
Wiessner Fritz - BST 1985-2.pdf
Zum_Gedenken_an_Fritz_Wiessner.pdf
Erste Route-Begehung